The ZingChart team is reading The Visual Organization, by journalist and dataviz expert Phil Simon. The book contains several interesting points related to data visualization for companies of all sizes to consider. In particular, Simon brings up some best practices for data visualization that are worth discussing.
What is a Visual Organization?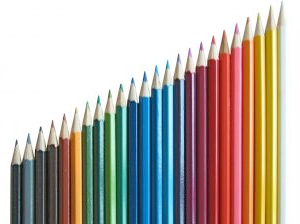 According to Simon, every company has data. Therefore, every company can benefit from some data visualization. The key lies in using the right type of dataviz. From local businesses to megacorps, companies are generating and gathering more data than ever before. Simon explains that becoming a visual organization requires more than building a few charts. It involves developing a company-wide culture that encourages the use of data and dataviz to:
Understand past events and why they happened
Monitor current activities
Generate insights and make more informed business decisions
Discover nuanced issues and ask better questions about existing processes
How do we start visualizing our data?
If you're ready to start visualizing data, the ZingChart team has annotated some of Simon's tips to hit the ground running.
Choose your viz wisely
According to Simon, dataviz should always start by taking a good look at the type of information you have and the relationships you're trying to analyze. Don't worry, you probably don't need to hire a data scientist for that! There are plenty of tools to help you, such as the "Chart Suggestion" graphic by Dr. Andrew Abela and The Data Visualization Catalogue by Information Designer Severino Ribecca.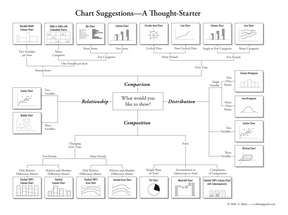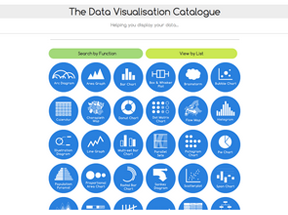 Work Smarter, Not Harder
Look for ways to automate your big dataviz. This may not be as complicated as it sounds. One way to minimize effort in this area is by using live data. If it it works for your organization, you may be able to eliminate time spent tweaking big datasets.
Keep It Simple Stupid
The KISS principle can be applied to most things, and dataviz is no exception. We agree with Simon's advice to "subtract when possible." Keep your visuals simple and don't allow chart elements to obscure your data; this can confuse and mislead your audience.
We've also blogged about some other principles for simple, quality data visualizations. But we have to agree with Phil Simon on this one. KISS is something we always ask ourselves about our own charts and graphs.
Encourage Interactivity
Simon recommends encouraging and providing interactivity in your dataviz. This allows your users to discover new relationships among variables and answer their own questions.
As you can see, ZingChart offers some built-in tools, like zooming, drilldown, and a powerful API. We put them in our library for you to employ in data visualizations to empower your users to explore data further.
Just Because You Can Doesn't Mean You Should
Advances in web technologies have lead to surges in unnecessary animation (Geocities anyone?). Dataviz is one area in particular where animation should be used sparingly. Animation is great in video games and entertainment sites, but ends up being a distraction in most visualizations. However, animation can be used to convey meaning and draw attention. Acceptable applications include:
Communicating an overall trend, such as a series of increases
User experience indicators such as chart loading, or a change in data when you reload or drill down.
Embrace new tools
Simon is not recommending that every business person needs to keep tabs on the latest little developments in data visualization products. However, he does recommend a periodic evaluation to ensure your current tool is still the most efficient option.
We've seen this a lot with some new ZingChart customers. They begin their journey as a visual organization working with a few hundred data points. But in a short time, they are working with tens of thousands. They've reached the point where they needed to embrace new tools because  the old ones were:
Breaking charts
Crashing the browser
Forcing them to sacrifice features and usability
Making them build elements from scratch
That is why they upgraded to the ZingChart JavaScript charting library. An evaluation showed that they could still have their cake and eat it too when it came to big data. Plus, a pre-built solution can free up the devs' time to work on other profit centers.
If you think this might be an issue for you, you can always check out our JS chart library speed test, or call us to talk about the differences between web chart products.